Stay on a budget near to Lyme Regis
West Dorset near to Lyme Regis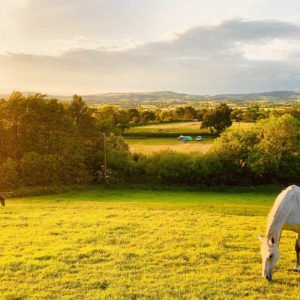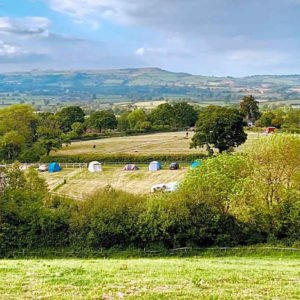 Looking for a Dorset Rural Retreat or Glamping Break ?
Relax and unwind at Hobby Farm, our peaceful, countryside adult only campsite retreat in the heart of the Dorset Marshwood Vale, West Dorset, in an Area of Outstanding Natural Beauty. There are numerous footpaths leading to the nearby coastal beach at Charmouth and it is just a 10 minute drive to the bustling seaside town of Lyme Regis.  There's also an abundance of wildlife all around the site with otters and ducklings to be found on the pond, horses grazing nearby and even a badgers set on the hill.  There's also a  lovely country pub serving great food and ale just a 500 yard walk down the lane too! Choose from our
14 non-electric grass pitches
for tents, trailer tents, campervans or, if you are looking for 'posh-but-rural-camping' why not try our well-equipped glamping
Shepherds Huts
situated in our lower field situated around our fishing pond. Whatever you choose, you can be sure of a relaxing stay at Hobby Farm Campsite and wake up to the sound of birdsong or the distant church bells.
Take a wander around our campsite...
SATNAV USERS – VERY IMPORTANT
PLEASE DO NOT USE OUR POSTCODE TO FIND US – this covers a very large area and it will take you miles away!
ON GOOGLE MAPS find us by typing:
"HOBBY FARM HOLIDAYS"
HOBBY FARM CAMPSITE IS OPEN ALL YEAR ROUND BOOK DIRECT FOR OUR BEST PRICE
Pitches and Shepherd's Huts must be pre-booked  online.
Full refunds given for cancellations up to 7 nights prior to arrival.
NO STAG OR HEN PARTIES
Our aim is to provide quiet and peaceful surroundings for all our campers.
ARRIVAL AND DEPARTURES
For the Shepherd's Huts, arrival time is from 3 pm and depart by 11 am (prompt).
For adult-only pitches, arrive any time after midday and depart by midday.
Footpaths Galore
West Dorset is teeming with countryside and coastal footpaths and Hobby Farm is the perfect place to begin and end a variety of walks in a network of pathways. Go through fields, narrow lanes, over styles and alongside streams and farmland and watch nature at its best.
Peace and Quiet
Nature surrounds you at Hobby Farm and with that comes a sense of peace and quiet. With like-minded campers nearby (and not right next to you), can can be sure to enjoy space, freedom and tranquility.
Sea and Lyme
The seaside town of Lyme Regis is just a short 15 minute drive from Hobby Farm. Visit the harbour, walk along the promenade, play crazy golf in the beautifully kept gardens overlooking the golden beach or simply sit and enjoy a beer on the seafront.
" Beautiful setting, clean facilities and great shower, the lake/pond was full of nature and the view was incredible. The whole atmosphere is peaceful and very relaxed. Very convenient location for local sights"
Set in West Dorst AONB
Hobby Farm Site
Horses Nearby
Site small fishing pond
Pub 10 mins walk
Marshwood Vale
View looking down to camp pitches
Entrance to Hobby Farm
The fishing lake at Hobby Farm
Hobby Farm Campsite
Hobby Farm Campsite
Hobby Farm Campsite
Hobby Farm Campsite
Hobby Farm Campsite
Hobby Farm Campsite
Washing up facilities
All facilities
Toilet and shower
Showers (2)
Toilets (2)
Facilities
Camping field
PERFECT FOR EXPLORING THE WEST DORSET JURASSIC COAST